PROADAS
---
PROADAS is the universal system developed to check and calibrate advanced driver assistance systems of multibrand vehicles.
Easiness of use, accuracy and maximum ergonomics are some factors which PROADAS differs. The versatility of this equipment fulfils the needs of many customers like workshops equipped with/without wheel aligners, mechanic workshops, body shops, windshield repairers.

The main benefits of this system are:
1) Compatibility with passenger car and commercial vehicles
2) Compatibility with vehicle on lifts or other levelled test bay; the software take in consideration the offset where the vehicle is positioned.
3) Compatibility with MONDOLFO FERRO CCD wheel aligners; after the vehicle wheel alignment procedure is possible to perform the ADAS calibration procedure and align the equipment by the CCD wheel aligner sensors.
4) Ergonomic working position, "all within reach"; thanks to its design the user doesn't need to move around for alignment of the system with the vehicle.
5) Need only 1 user for its use.
6) Conforms to vehicle manufacturer procedures.
7) Accurate alignment-positioning of the equipment by CCD sensors.
8) Complete print report including:
Workshop and Driver info 
Status vehicle in input 
PROADAS positioning data 
ADAS calibration result 
Camber and Toe value, with AllInOne software enabled 
Status vehicle in output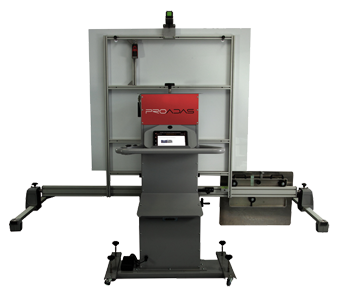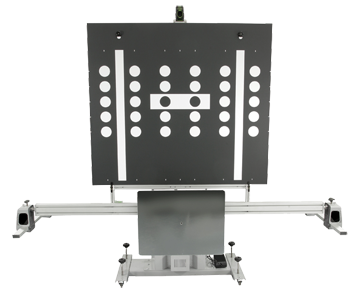 Technically, the measurements of ADAS systems are influenced by the vehicle's alignment in relation to the toein and thrust angle. The prerequisite for ADAS calibration is that the vehicle and the ADAS calibration panel are perfectly aligned.
If a camera or radar sensor is moved from its holder during repair, it must be recalibrated following the manufacturer's procedures.
If the radar range or the camera's field of view are altered by a change in the sensor's mounting points or by the pushing angle, false activation or deactivation of the ADAS system is possible.
Maintenance and calibration
There are two ways to calibrate an ADAS system. One method involves the use of lenses mounted on a device at precise distances from the sensors. The patterns on the lenses are recognised by the vehicle's camera and can reflect the beam. The recalibration process is initialised with a scan tool. The other method is a test drive that is also started with the help of a scanning tool.
Knowing that there is a camera behind the windscreen or a radar unit behind the grille can help you make the right choices before, during and after an alignment or repair.
Download the Magazine: